Zack Portman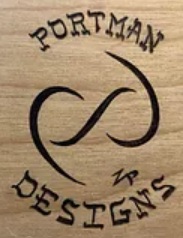 Driven by passion for functional Judaic art since May of 2018, PD (Portman Designs) has been crafting, creating, and beautifying mitzvot. In Judaism, there are many commandments and traditions that require the use of a ritual object(s). While possessing the required item(s) to fulfill a mitzvah is a necessity, bringing beauty and deeper meaning to the user through the object(s) is a mitzvah in itself.
PD also specializes in collaborating with customers to create one-of-a-kind wooden gifts and commemorative art. PD utilizes multiple wood working techniques (i.e. construction and sculpture) and pyrography (wood-burning) for graphic artwork on most creations and custom pieces.
Each collaboration is an opportunity to learn something new and create something meaningful.
From wooden mezuzot, plaques and toys, to wall art, jewelry and Shabbat candle sticks.
All projects, simple or challenging, are welcome!

Please visit PortmanDesigns.com to see more of our offerings.
Custom Item for Sale
10" hand crafted walnut wood Torah Yad. It is kept safe in its custom 11" oak wood carrying case with magnetic top. The purchaser can choose how to personalize and decorate the case via wood burning.
Sun, November 29 2020 13 Kislev 5781